Arizonan multimedia artist Jaron Ikner is inventive regardless of the genre, subject, or format. He takes great delight in establishing a distinctive viewpoint in all of his endeavors, whether they include his record label, writing, or shooting. He offers multimedia experiences through video, film, writing, graphic design, and creative direction since he is passionate about storytelling. In addition to penning countless pieces for the Phoenix New Times and MEOW magazine, he has authored science fiction novels, including Rosemont and Parallax.
Ikner had planned to make his debut feature, Magenta, in 2020 as a thesis movie for his alma institution. However, two weeks before the start of photography, the intended production was halted owing to the limitations imposed by the Coronavirus epidemic. Ikner invested his stimulus money in new camera gear so that he could make a couple of short films during the summer. But because of the abundance of talent who offered to help him, plans were quickly made to make a new feature picture instead of Magenta. The germ of THE BOND was sown at that time. Ikner was able to secure enough funding after producing a "proof of concept" trailer. Numerous producers were drawn to it, notably Tyrone Campbell, who contributed more money and production services to the thrilling production.
In addition to the movie's April 30 global premiere in Tempe, Arizona, Ikner intends to publish a novelization of the movie that delves even further into the dystopian nightmare it portrays. All are preparing for its VOD debut on May 6 only on Reelhouse.org.
When asked about his filmmaking inspiration in an interview, Jaron answered, "I refer to myself as a multimedia artist, which is just another name for a storyteller. I enjoy using various media and expressing tales in intriguing ways. I decided to try my hand at the film format because I think that, aside from video games, movies are the best medium for conveying stories."
Ikner claims that the reception of his movies is usually inspiring. He is constantly his own critic, so when he receives praise from others, he feels he is moving in the correct direction. When asked about his debut movie, Jaron stated, "The Bond is my debut feature." It tells the story of two separated brothers fighting through a metropolis devastated by a virus while up against an all-powerful corporation and a rebel group aiming to overthrow them. My record company, Starstruck Multimedia, composed the original soundtrack for the movie, which includes works by some up-and-coming indie musicians.
Ikner takes pleasure in his original method for developing colorful ideas and products. The rising star from the southwest has many more projects than only short films, music videos, and interactive stories. Jaron has an unmatched unconventional approach to his work, from having Redditors anonymously sketch his face several times to developing a "multiverse" with various characters and associated musical releases. It's virtually impossible to predict where he'll turn next. Jaron plans to resume writing after writing a TV pilot and three full-length features. At this point, it is impossible to predict Jaron's trajectory because it is evident that only a gifted few have been able to function in the way he does.
Ikner frequently receives comparisons to artists like Donald Glover and Kanye West. Still, he prefers to refer to himself as the "first Jaron Ikner" rather than "the next" one of those musicians. Right now, he wants to keep meeting like-minded people and broaden his influence in a world that is constantly changing.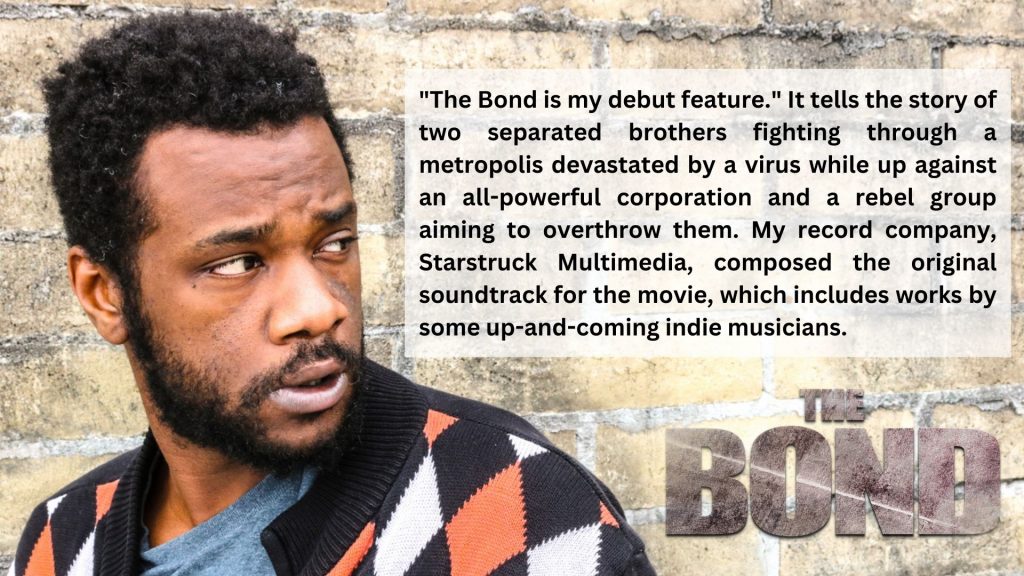 Check the links below, discover more about Jaron Ikner!
Official Website: www.jaronikner.com
To watch THE BOND trailer, rent or buy today on Amazon Prime
https://www.amazon.com/Bond-Ashe-Bridges/dp/B0B8TL1H7C

Spotify: Jaron Ikner
*Attention bloggers and pod casters, for follow up interviews with filmmaker and music producer Jaron Ikner be sure to contact Sharry Flaherty of Samera Entertainment at: SameraEntertainment@Gmail.com
Spotify: Jaron Ikner