Dr Luna is a sound mystic like no other. He creates and performs under the ominous names of Dr Luna (Black Ambient) Luna 13 (Blackened Bass Metal) and Antania (Doom Bass), building sounds that travel through industrial, doom, bass music and NU metal, but his mind isn't strictly limited to what can be heard. He also needs to feel the crushing force of the music underneath his feet.
Some of that can be seen in the unique instruments built from KAT electronics (his sponsor) and steel levers he invented and calls "Death Triggers," and in the black floor-to-ceiling dub-style sound system he has lining one room of his Joshua Tree, CA home. To create the music he hears in his head, Dr Luna works with KAT Percussion, a microbrute and levers of his own design, rejecting the usual buttons and switches of computers and sequencers to truly embody the dark and heavy aspect of his music.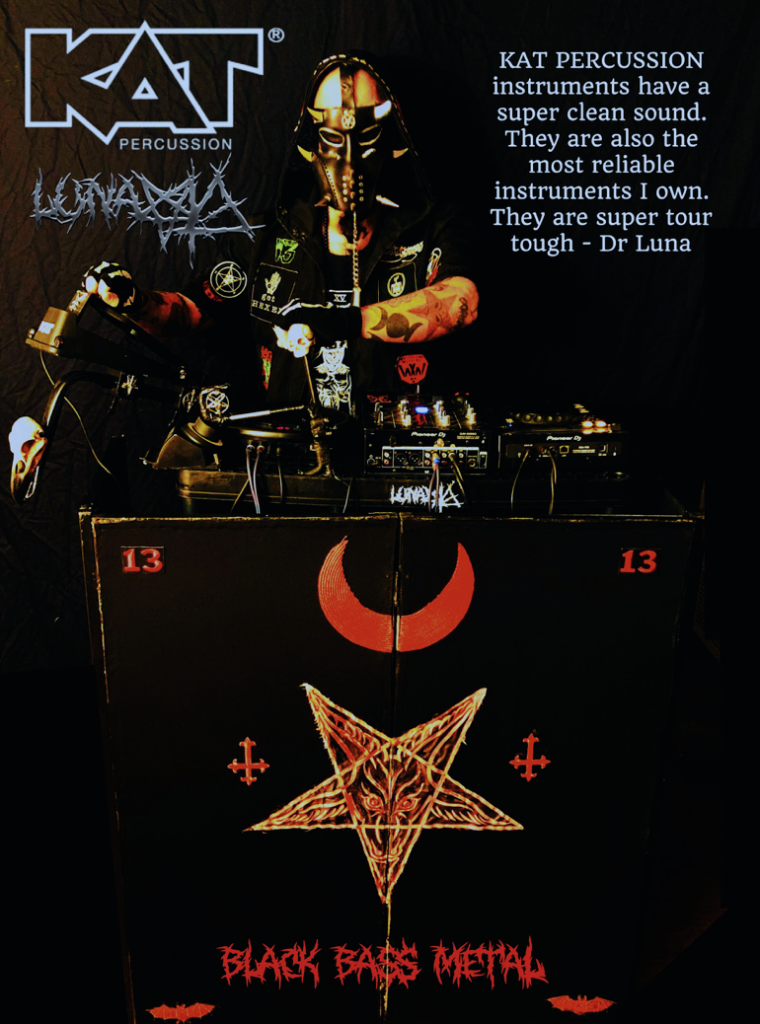 Outside his stage presence and working non-stop on creating the darkest electronica music on the planet, under his birth name, Dr Luna is one of the most sought out occultists on the planet and has an incredible mystical job working with the top names in Hollywood CA. Dr Luna has witches that follow his work all over the world and is a recognized author of the occult. Not to mention that Dr Luna is a 3rd Degree Priest of the goddess Hecate at the Temple of Hecate in New York City. Dr Luna is so sought out for it takes over 6 months to see him. He told me personally not to worry, music is his passion and his highest "darkest" spiritual devotion is put into art. Just because he succeeded in a spiritual career doesn't mean he isn't focused on dark electro. Luna creates sinister music because he loves it, he doesn't have to do music at all. He refers to himself as a music addict. "Bass Lines roll through my brain all day." Dr Luna says.
Onstage, he looks like a serial killer grappling with torcher machines. Dr Luna's right hand grips a menacing lever of metal with a skull; he calls his live workshop the "Throne of Hades", it acts as a drum machine with multiple triggers beneath his fingers, as he shoves forward and back to make beats, blending the live with production and sounds he creates emulate swarming bees, a trademark sound of Dr Luna. Everything he creates is his own, no downloading samples here.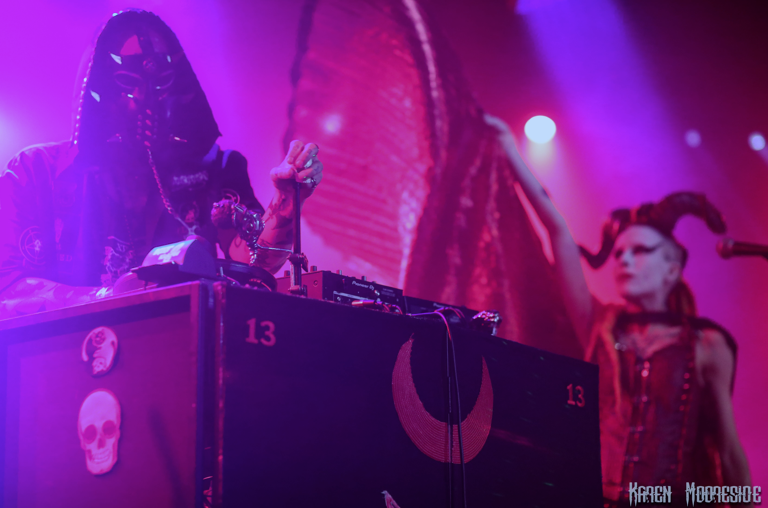 Although Dr Luna's "Throne of Hades" is part production and part live, It would have been easy enough to program everything on his computer, but the result would not be the same. "The whole reason I use this KAT Percussion stuff is so that I can play drums and drop bass lines live. So I'm playing the drums, pressing these buttons and moving it back and forth," he says. "It falls behind, it goes in front of the beat. My bass lines bend and things are never perfect." Just how Dr Luna wants it.
Dr Luna has three projects, a brutal, self titled black ambient project, Antania, a doom bass project he shares with his girlfriend Kali Mortem, and his most dominant project Luna 13, headed by Lilith Bathory that earned Dr Luna his reputation. He recently created Antania because he felt there was a need for more bass metal projects and no one else out there was able to create music like this. "It's just simply too hard to create," he says. There is no doubt a reason that Shone from Author & Punisher and Dr Luna are starting to stand out amidst the industrial crowd. There is a level of talent here that is challenging to duplicate. Dr Luna stated that he uses over 30 tracks to create songs where most synth industrial will use only 8 tracks. Industrial Metal created with machinery is hard to do and I personally have no issue with the live production because of how hard this music is to create.
I asked Dr Luna why he thinks he hasn't earned a lot of the respect that a few others had and his message was clear "there is a darkness I like to project in music that isn't really commercial and being dedicated to the path of the dark goddess, I prefer female fronts. Those two elements prevent me from going mainstream. I also already make money so I won't be selling out here, we will let the others do that."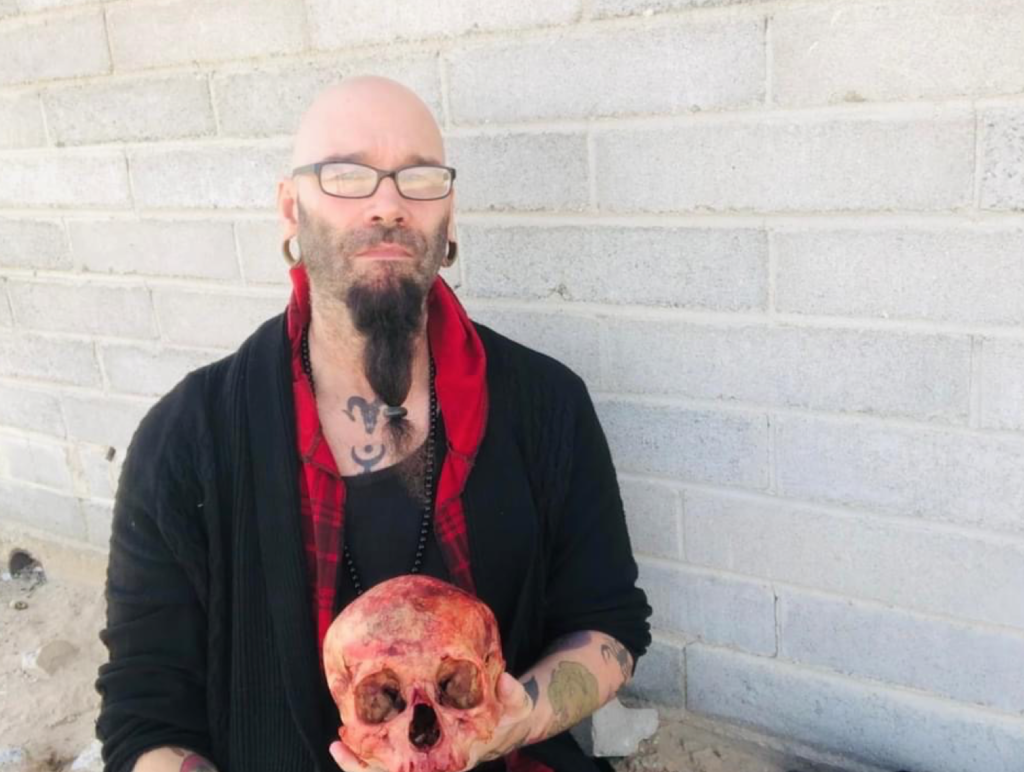 Find Dr.Luna on Instagram
@drlunaofficial
@luna13officia
@antaniaofficial